Shipbuilder Academy provides Ingalls with new employees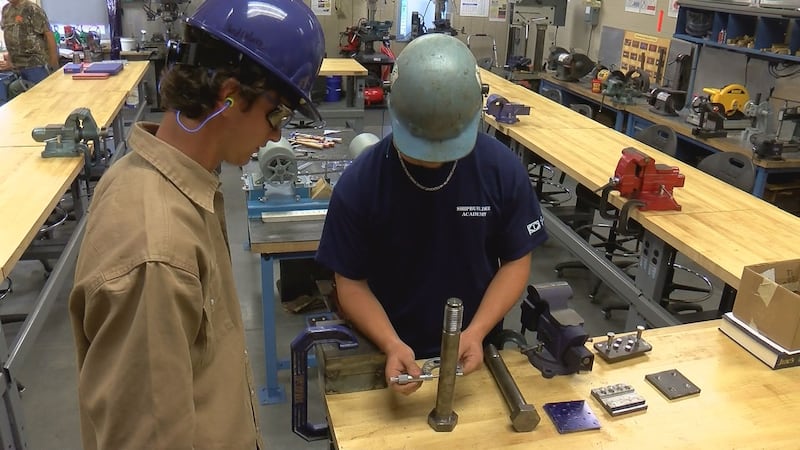 Updated: Oct. 17, 2018 at 5:06 PM CDT
PASCAGOULA, MS (WLOX) - The legacy that Ingalls Shipbuilding leaves on the community is expanding its reach into Coast high schools. The Shipbuilder Academy started three years ago, and its enrollment gets bigger each year.
"We wanted to reach out to the local schools because if we build a pipeline in our backyard, then we know the employee is actually going to stay," said Victoria Hunt, manager of the program.
These future employees come from high schools just down the street from the shipyard. Jared Delancey graduated from Vancleave High School and spent two years studying vocational technology. That's where he heard about the shipbuilder academy.
"It means a lot. It gives me a pretty good head start coming out of school," said Delancey.
That head start is what got East Central grad Christopher Miller involved with the program in its first year. He now has a great job at Ingalls with benefits and possibilities of advancement.
"It's a job I could make a career out of. So, it's a good opportunity. I was glad to get it," said Miller.
Once certified through this program, these students start out making anywhere between $35,000 to $40,000 a year.
"The money is really good. Coming straight out of high school, you can't really beat that," said Miller.
And for Miller, the thought of making a difference for the future of our country's military is just the icing on the cake.
"It is cool to actually work on Navy ships right here in Pascagoula. Ships that are going to go out in the fleet. That's something that I'm proud to work on," he said.
So far, 64 students have graduated from the program, and 73 students are currently enrolled.
Copyright 2018 WLOX. All rights reserved.