Scholar Athlete makes splash in the pool and the classroom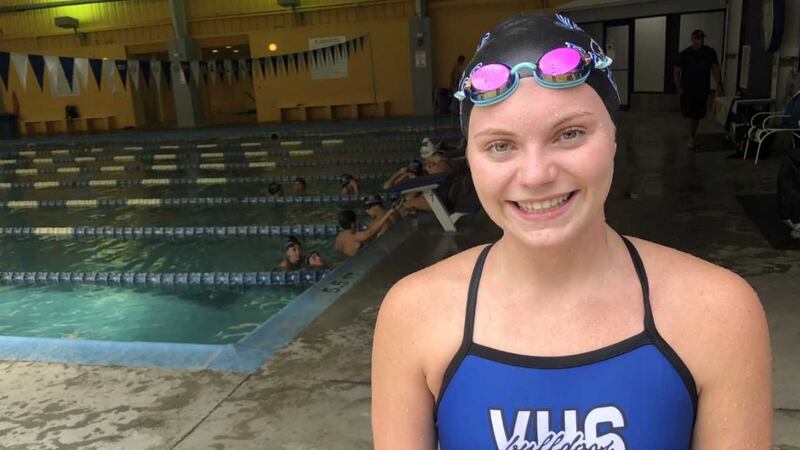 Updated: Oct. 3, 2018 at 1:54 PM CDT
VANCLEAVE, MS (WLOX) - Cait Chandler is making a big splash both in the pool and the classroom. The senior at Vancleave High School is a championship swimmer and sixth in her class. How does she do it? She counts her blessings, and stays humble.
"I think for me, just knowing that each and every day I get a new opportunity to maybe make a difference in not only my life, but someone else's life. And I'm just so thankful that God has given me those opportunities," said Chandler.
Her humility doesn't stifle her competitive edge. After six state championships, she knows that she's the swimmer to beat. "Sometimes going in with a target on your back is not easy," she said.
She handles the pressure one lap at a time. But this sport wasn't always on Chandler's radar. Her coach, Lynn Moffitt, remembers giving Chandler swim lessons when she was 4 year old.
"And she wouldn't get her face wet, she wouldn't put her face in the water, she wouldn't blow bubbles, she wouldn't do anything like that," she said, "She didn't come back. She decided that wasn't for her."
That all changed pretty quickly when Chandler took a second look at swimming about 10 years ago, and got pretty good at it. In fact, she got so good and showed enough interest that her father and Moffitt worked to start the swim team at Vancleave High School so that Chandler and others could have an opportunity to compete.
Now, Cait is the senior athlete representative for Mississippi swimming. She knows the responsibility that comes with her successes because she remembers looking up to others when she was younger.
"I saw them and said I want to be like that when I grow older so being able to set that example for someone else means a lot to me," said Chandler.
Cait hopes to go to college for a degree in mechanical engineering, and yes, she still plans on swimming after high school.
Copyright 2018 WLOX. All rights reserved.