Gulfport High culinary students cook with Seabees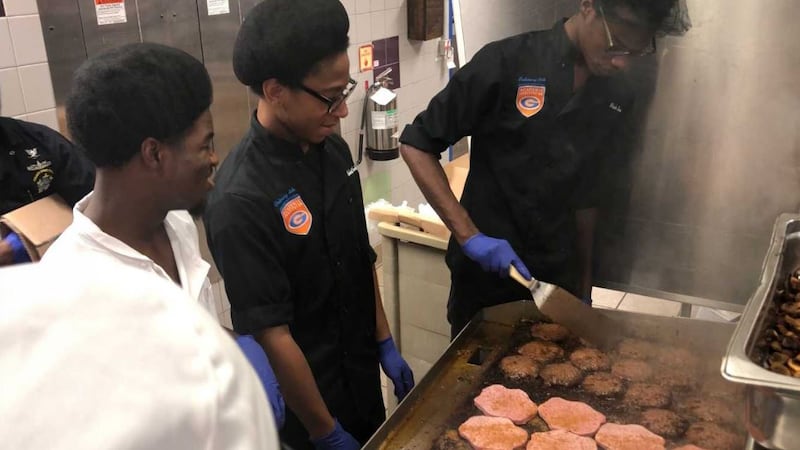 Updated: Sep. 19, 2018 at 9:27 PM CDT
GULFPORT, MS (WLOX) - Culinary students from Gulfport High School put what they've learned into practice in a real world scenario.
They were grilling, chopping and preparing hundreds of meals at the Naval Construction Battalion Center in Gulfport.
The seniors took their lessons out of the classroom for the experience on base. "It's very different than being at school. The kitchen's bigger. It's just a lot. We've learned so much," said Marielle Jackson.
They got first-hand experience with people who work in this kitchen at the Seabee base in Gulfport every day, like Petty Officer Roshad Taylor. "It's a beautiful thing to see their passion and this freshness, the newness. It's wonderful," said Taylor.
According to Taylor, these students really got the hang of it, even getting into the comradarie that working in the kitchen brings. "This is fun. I ain't going to lie, it's hot back here. I feel like I'm going to sweat myself out. I'm having a good time with my friend back here, and those two over there," joked Micah Sims.
Sims was taking it all in and enjoying every minute of it. "I don't get this type of experience at McDonald's. Working with somebody who's been doing this for a long time. It's really teaching me some new things. Like how to do things in a more efficient way than I would do them myself," said Sims.
This is the second year for culinary instructor Chef Danie to bring her class to the base for this experience. "We want to involve them in the professions that we're teaching, so we get them out there working with the community," said Chef Danie.
For students like Marielle Jackson, this class could even help lead to a career in the culinary field one day. In the meantime, Jackson was feeling the pressure feeding more than 500 military members.
"It's a lot of anxiety because you want it to be perfect because these are people who serve us on a day to day basis who don't have to. So you want everything to be perfect for them," she said.
These students will visit the base every quarter as part of a new partnership between the Seabee base and Gulfport High School.
Copyright 2018 WLOX. All rights reserved.