USM Gulf Park students settle into new student housing
Still room for more students at Friendship Oak Village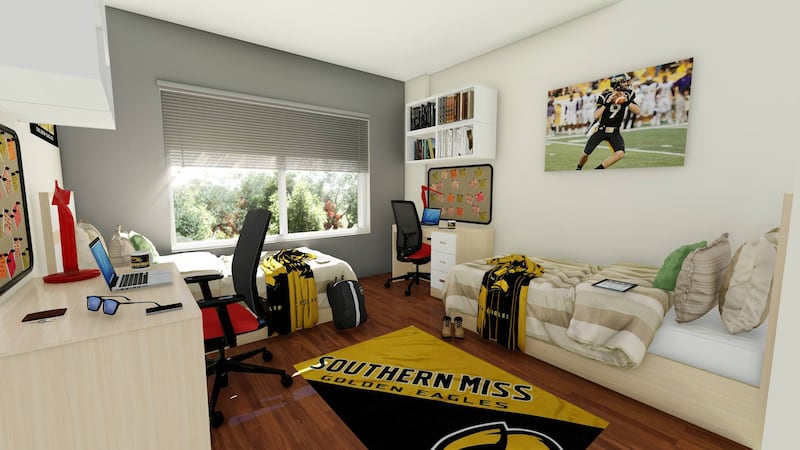 Updated: Sep. 7, 2018 at 12:56 PM CDT
BILOXI, MS (WLOX) - Students at Southern Miss' Gulf Park Campus are settling into new living quarters as the fall semester gets underway. It's the first type of student housing the Coast branch of the university has ever had, and there are still rooms available.
Construction began on Friendship Oak Village back in March, transforming the 29,000-square foot building into comfortable student housing that's only a few steps away from USM's campus in Long Beach. It is privately owned, but only USM students can live there.
"A big point for us was to make the students safe and secure. So, we have security. We have keyed access entry ways," said Jan Gaston, the property manager for the Friendship Oaks Village. It's the very first student housing that's ever been available for the campus.
Gaston said the facility boasts a dorm feel while providing apartment-style amenities.
"The rooms, they cannot get over how spacious the rooms are here," she said.
All 61 rooms come furnished with two beds, dressers, desks, and chairs. Most of the rooms share an adjoining bathroom between two rooms. There are a few that have their own bathroom. The facility also includes a laundry, kitchenette, and a landscaped pool with picnic tables and a grill.
One student transferred from Mississippi State to USM to study marine biology, and this student housing played a big role in her decision.
"I really liked the community feel and being around other students as opposed to being with a bunch of people I didn't know in a big apartment complex. And it's very convenient to the school, which is nice," she said.
The facility also includes a laundry, kitchenette, and a resident-favorite feature, the pool area.
"We call it the village green. A big picnic and barbecue area. There's actually a barbecue grill that they can use too," said Gaston.
Students pay a monthly rent to live at the Friendship Oak Village that's comparable to on-campus living. And there could even be an option to expand the facility sometime in the future.
Friendship Oak Village will hold a ribbon cutting and open house Saturday at 10 a.m. There are still rooms available for any students still in need of housing. For details on residency, visit the facility's website HERE.
Copyright 2018 WLOX. All rights reserved.